January | February | March | April | July | August | September
News, 2001
January 18, 2001 -- We're back!
Sorry about the problems with the webserver! Due to circumstances beyond my control this webpage got deleted. So..I had to spend the last couple of days restoring what I could and making edits to pages that had not been saved recently. I am just about done. The only 2 sections that may have errors are the pictures and news archives. I am missing only one file from this page..and that's all the news from September 2000. That was an important month of last season since Albert had his first injury and all. So, if you have it saved on your harddrive or have anything to contriubte to the restoration of that news please send it to me. I also need the belle3.wav and belle4.wav from the multimedia section if anyone saved those. Thanks!
Now, on to the Albert Belle news. As most of you know he appeared at Oriole Fan Fest last Saturday. I'm wondering if any of you fans out there had a chance to go. If you did, please feel free to send me a fan experience to post on the site. The only other news that I really have is that Spring Training for the Orioles will begin Friday, March 2, 2001 vs. the St. Louis Cardinals. To see a full schedule,
click here
. If you'd like to buy tickets for their 14 home games in Fort Lauderdale Stadium they go on sale Saturday at 10:00 AM. You can call Ticketmaster Florida at (954) 523-3309, (305) 358-5885 or (561) 966-3309. Another way to get tickets is online at
ticketmaster.com
.
January 19, 2001
Just some Albert news for you today. I found this
poll
of the Top Ten active players on the Hall of Fame Borderline and Albert is included.
Another thing I came across today was new things on Albert's official site. His latest journal talks about the state of baseball. It was just posted a few days ago. Check it out at
albertbelledirect.com
.
January 30, 2001
An article came out today in Baseball Weekly with details from Albert on how his hip is doing and what could happen next season. If you don't want to buy Baseball Weekly then you can check out the article at this URL
http://www.usatoday.com/sports/bbw/2001-01-24/2001-01-24-specialrpt-belle.htm
.
Back to Top
February 16, 2001
Long time no update. I have to admit that I have not been the best baseball fan for the past year. I am still strongly following the Orioles though. I've been slacking with the news on this site as of late and I apologize. Anyway, I was browsing the newly-renovated mlb.com site this morning and I came across the 2001 Orioles preview. In it I read that Albert will be having a physical on the 19th. To read the preview
click here
. The part about Albert is under "Key Position: DH".
February 21, 2001
Err..my webhost woulnd't let me update yesterday. Sorry! Anyway, I have good news and bad news. The good -- Albert passed his physical on Monday. The bad -- he limped in his first practice. He worked out with the Orioles yesterday but his (right) hip hindered his ability to run and forced him to perform at less than full speed. He's been working out this past offseason and he says that he is capable of still playing right field. Whether the Orioles are going to do this though is the question. Mike Hargrove said, "If Albert either proves to himself, or to us, or breaks down or something happens that says he can't, obviously we will adjust. . .But until that happens, Albert is the right fielder." The article I read also said that he put on 15 pounds on his upper body, mostly in his belly.
If I hear anything else I'll keep you guys updated.
Back to Top
March 1, 2001
Albert will not be making the trip to Jupiter tomorrow for the Orioles' first spring training game because of his sore hip. He will however be playing in right field the next day.
As for his practices with the Orioles, he's been moving poorly on the outfield and basepaths but is hitting fine. He has also not slid into any bases during practices. "If there's a close play, he's supposed to slide. He'll play hard," manager Mike Hargrove said Tuesday. "Albert has not backed off or asked out of anything here. There have been times we've gone up to him and asked him how he feels and if he wants to sit out a drill. He's not taken us up on the offer, which is good to see."
March 3, 2001
Though scheduled to start in right field today Albert didn't. In fact, he wasn't even able to DH. His hip is apparently still giving him a limp. "I'm kind of disappointed with where I am," he said. "I thought maybe after the first week, there would be some normal soreness. Then, maybe after the second week, there'd be some improvement. But it's been going the other way, so I'm not happy with that."
"Certainly, not being able to play the first game of the spring is a concern," manager Mike Hargrove said. "I'm more concerned than I was 30 minutes ago, and more concerned than I was a day ago."
They're going to try and play him tomorrow vs. the Dodgers. I'll update you all with what happens.
March 5, 2001
Well, no suprises here. Albert had to be scratched from the lineup on Sunday as well as today. This injury probably is not one that can get any better. Let's all just hope for the best.
I'll update you all with anything new that I find. I was unable to find any pictures of him from practice but I did discover this one from March 3rd. Credit to the AP/Roberto Borea.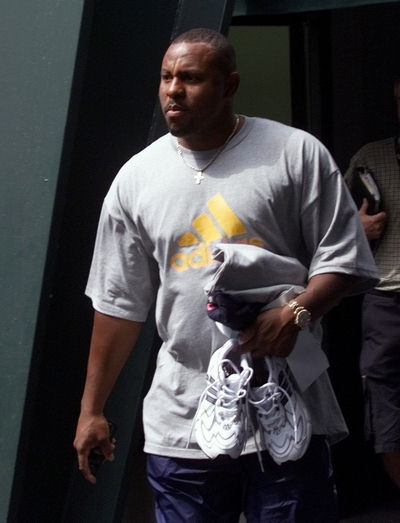 March 6, 2001
Well fans, what you don't want to happen could actually happen soon. All signs are pointing to retirement for Albert. He says he needs a "miracle" to play again. "At any second, it could go," Belle said. "I've felt more pain the last three days. The leg isn't getting stronger."
Manager Mike Hargrove says he will wait till mid-Spring Training to make a final decision on Belle for the season.
March 7, 2001
It was being reported yesterday that Albert may announce his retirement as early as this afternoon (this was reported on WBAL radio). If this is true, I'm sure it's what's best for Albert. He is the only one who knows whether he can go on or not. His agent, Arn Tellam, is saying all this retirement talk is premature.
Here are three related articles:
March 7, 2001 (More News)
I found some articles covering Albert's whole career. Well, the first one is actually a timeline. The second one discusses Hall of Fame topics:
March 8, 2001 -- Retirement
Albert is basically retiring. After he was examined by 2 team doctors he agreed that he is not capable of performing. He has degenerative arthritis of the right hip. Tomorrow he will be placed on the 60-day DL.
March 9, 2001
Albert's locker has been cleared and his name plate has been removed. His career is now over. What a sad way to end it :-(.
Here are some articles I found:
March 14, 2001
Well, who knows what's next for Albert. I hope that he can find some way to still be involved with his passion for baseball. Perhaps he could be some kind of coach. Anywho, I updated a few things today. I added his career stats to the stats page and added a link. Does anybody know the status of Athlete Direct? They held so many sports homepages, including Albert's, and I think they recently went down. I really wish I could read something from the man himself. I'll still update this site, but not as much as before unless something major happens. So, keep coming back.
Back to Top
April 26, 2001
Yeah..There has been nothing to report! Just writing to let everyone know this site will still be here and if I ever here anything about Albert I will surely report it. I want to also let yall know I updated the articles today and I added the
Santa story
from BB Weekly in 1998. Scroll down to Chicago and read about Albert :-). If anyone has any news send me it.
Back to Top
July 1, 2001
No news directly about Albert. I wanted to inform all that Albert's coach from LSU, Skip Bertman, recently retired. Also, Jim Thome recently broke Albert's Indians Home Run Record. Thome's 243rd HR broke the record, so I guess Albert had 242 with the Tribe. That's it. I'll be updating things from time to time, and if there is any major news I'll be sure to post it.
July 20, 2001
Jnj41790@cs.com informed me today that Albert was on a Cleveland radio show for about a 1/2 hour yesterday. In the interview he spoke about his health & chances of returning as well as John Rocker. The interview is expected to be up on the website sometime this week so I'll keep you posted.
Visit KennyRoda.com
July 27, 2001
Still no sight of the Albert interview on Kenny Roda's site. Umm..let's see, today I went through and fixed broken links in the pictures. I also added a few old articles and took out some of the dead links. E-mail me if you have any news on Albert... I'm really interested in anything you've heard!
Back to Top
August 4, 2001
YAY! The AB interviews from July 19th w/Kenny Roda are now on Roda's site.
Click here
to go there...scroll down a little to find the clips. Albert talks about his condition, the Indians, 'Joey', John Hart, the infamous 'village idiots' quote, going back to LSU, the corked bat incident, and much, much more!
OH Yeah..I recently fixed all of the pictures...sorry it took me soooo long!
If you have any Albert news, please send it on over (I will always give credit where due)!
August 25, 2001
Hey everyone, no news...but, today's Albert's 35th birthday!
Back to Top
September 29, 2001
Woohoo Ultimate AB is finally back up and running! Sorry about the offline time..I didn't do it. Crosswinds had many pages deleted due to error so I had to upload all of my backup files onto the server. Well, anyway, the only things that may not work just yet are all of the pictures and some of the sound files...but I'm workin on it! :) If you have any AB news drop me a line.
Back to Top