About This Site
Send Molly an e-mail
How did this site begin?
My name is Molly and I first opened this website on June 25, 1999. I had an idea to start the site because there were not many good resources about Albert Belle online at the time and I was looking for information on my favorite baseball player. Hopefully I have helped a lot of people learn about Albert Belle over the years and helped show more about him than what is portrayed in the media.
How did you become a fan of Albert Belle??
In 1997 I used to listen to Chicago Bulls games on AM1000 which is also the Chicago White Sox radio station, and which is how I got to listening to their sports radio shows. They often discussed the White Sox and Albert Belle. Later, I saw something to the effect of Albert getting booed on TV and I was interested in understanding why he was getting booed. I watched part of an Orioles vs. White Sox game that I saw while flipping channels and then first full baseball game I ever watched was the 1997 All-Star Game (which Albert wound up not playing in). As I learned more about Belle I became increasingly intrigued, and did some research- which is how this site came into existence. I stopped watching and following baseball when he retired, but I'll always be a huge fan of his!
My Collection:
-
Magazines featuring Albert
Game Face
("Official Indians Magazine") Vol 10 #1, 1996
Newsweek
March 25, 1996
Sports Illustrated
May 6, 1996
Sport
May 1997
Sports Illustrated
July 27, 1998
Outside Pitch
March 5, 1999
Sports Illustrated
March 8, 1999
- Hundreds of Albert Belle baseball cards
1989 Fleer Update #U25 (PSA 8)
1989 Topps ML Debut #14 (PSA 9)
1989 Score Traded #106T (PSA 9)
1990 Fleer #485 (PSA 9)
1990 Upper Deck #446 (PSA 9)
1999 Bowman Chrome #233 (PGS 9)
1989 Albert Belle Canton-Akron Minor League Star Card Set
1989 Albert Belle 1992 Star Card Set
1987 Albert Belle LSU Tigers Police Issue Card
- Pinnacle Mint 1997 Albert Belle Coin
- 1997 Donruss Preferred Albert Belle Tin
- Posters
"Belle Ringer"
Frank Thomas and Albert Belle "Power
2
"
"The Fifty - Fifty Season" autographed poster
- Albert Belle White Sox Pennant
- Albert Belle Orioles Pennant
- Don't Call Me Joey: Quotations from Albert Belle book by ECW Press
- Baseball Legends: Albert Belle book by Dennis R. Tuttle
- Shirts
Chicago Firepower Shirt w/ Albert Belle & Frank Thomas
Chicago White Sox authentic practice Jersey
Chicago White Sox number 8 T-Shirt
Baltimore Orioles number 88 T-Shirt
Chicago White Sox number 8 kids jersey
- The 59/50 Official Chicago White Sox Hat
- Beansville Buddies Chicago White Sox (Beany) Bear
- Salvino's 1999 Opening Day Albert Belle Bammer Bear
- Albert Belle (1997?) Headliner figure
- Albert Belle 1992 Starting Lineup figure
- Albert Belle 1994 Starting Lineup figure
- Albert Belle 1995 Starting Lineup figure
- Albert Belle 1997 Starting Lineup figure
- Albert Belle Mouse Pad
- Albert Belle used bat (1993 or 1994??)
Past Website Layouts
??–May 2005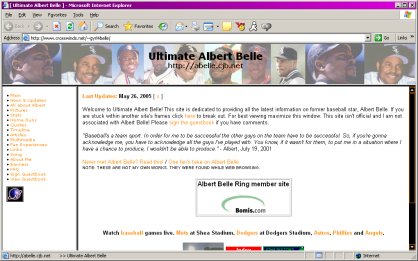 May 2005–May 2007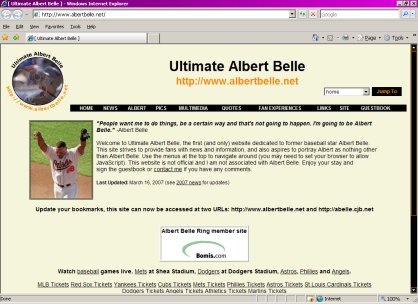 Back to Top