Family Member Quotes About Albert Belle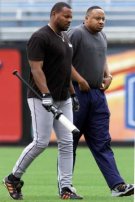 "Joey is extremely smart. He's great with figures and crossword puzzles. He could spell backwards when he was five. Did you know that my Joey was an Eagle Scout? He took French in high school, finished sixth in a class of 266. I brought him up to excel in everything. He wants to be perfect."
- Carrie Belle, Sports Illustrated...June 24, 1991
"Albert doesn't need to change his personality; he needs to change his image."
- Terry Belle, The Sporting News...February 26, 1996
"Albert's drive to win is so great that he is sometimes negatively labeled. My brother is intense in all his endeavors. He's a perfectionist. What's wrong with being intense and trying to be perfect?"
- Terry Belle, Ebony...May 1997
"It seems like the fans' love for my brother has turned to hate very quickly."
- Terry Belle...July 8,1997, On Cleveland Fans at the 1997 All-Star Game
"Albert Belle should be in the same class as a Cal Ripken, a Ken Griffey. He was an Eagle Scout. He played in the Junior Olympics. And he's a Christian. . . . He's very genuine."
- Terry Belle, The Chicago Tribune... July 9, 1997
"Albert likes Ray. If anything happened, it happened in the heat of battle. It's over with. They're going to work it out. They both want to win. It amazes me how this is sensationalized whereas 400 kids go to see their first game in Texas and that was barely covered and four kids received Albert Belle scholarships to college and that wasn't covered either."
- Terry Belle, The Baltimore Sun...July 11, 1999, On Albert's Ray Miller incident