Biography
This is all of the information on Albert Belle that I have accumulated over the years. I cannot guarantee that everything is correct or is not outdated, but it should be pretty close. I got all of my information from articles, newspapers, magazines, quotes, websites, and baseball cards.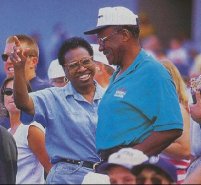 Full Name:
Albert JoJuan Belle
Formerly Known As:
Joey (he no longer goes by this nickname)
Date of Birth:
August 25, 1966
Place of Birth:
Shreveport, Louisiana
High School:
Huntington (Shreveport, LA)
College:
Louisiana State University (LSU), 1985–1987; received undergraduate accounting degree from LSU in 2003
Family:
Albert Belle (father), Carrie Belle (mother), Terrance Belle (Terry; fraternal twin), Melissa Belle (wife), 4 daughters
Hobbies:
Ping-Pong, golf, chess, reading, crossword puzzles, video games
Closest Friend in Baseball:
Andre Thornton
If Not Athlete Might Have Been:
A doctor, an accountant for a Big Six firm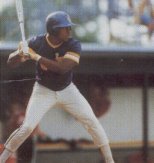 Favorite TV programs:
Sporting events, Cheers, Married with Children
Favorite Sports Announcer:
Dave Nelson
Favorite player as a kid:
Eddie Murray
Favorite pitcher as a kid:
Jim Palmer
Favorite team as a kid:
Baltimore Orioles
Favorite Actor:
Danny Glover
Favorite Actress:
Vanessa Williams
Favorite Movie:
Lethal Weapon
Favorite Book:
Malcom X
Favorite Music Artist:
Public Enemy
Favorite Foods:
Gumbo, red beans and rice, spaghetti, Italian
Favorite Desserts:
Cheesecake, chocolate ice cream, yogurt
Favorite Vacation Spot:
Phoenix, Arizona
Did you know?
- Albert is good with figures and crosswords.
- Albert is an Eagle Scout (him and Terry became Eagle Scouts their sophomore year of high school).
- As a senior in High School Albert was a member of the National Honor Society, a class officer, and Vice President of the Future Business Leaders of America.
- Albert was a star baseball and football player at Huntington High. On the football team Albert was the starting quarterback, free safety, and kicker.
- Albert graduated high school 6th in a class of 266
- Albert majored in accounting at LSU and part of his scholarship was academic. Albert's favorite subject was math, he took 3 math classes his senior year of high school and even took an advanced calculus class with only 2 other students.
- In 2003 Albert received his undergraduate accouting degree from LSU. He had promised his parents that he would return to school and receive his degree.
- Albert's mother is a retired math teacher and his father is a retired high school baseball and football coach.
- Albert was offered a football scholarship to Notre Dame and received a prestigious appointment to the Air Force Academy but decided to go to LSU to play baseball after making the all-state baseball team.
- Albert was on an episode of the television show
Hangin' with Mr. Cooper
in 1996.
- Albert won a silver medal for the USA in the 1984 Junior Olympics. He not only played outfield, but pitched and won a game!
- Albert was ranked #31 on Forbes' Top 40 Athletes of 1997.
- Belle played some shortstop in the minors in 1988.
- Albert chose to wear the number 8 because players in the past who have worn 8 put up good numbers.
- Albert has worn 3 numbers in the Majors: 36 (Indians), 8 (Indians and White Sox), and 88 (Orioles).